Announcement of intent: VDL Groep to fully acquire De Meeuw
23 May 2023
Family-owned industrial company VDL Groep, headquartered in Eindhoven, plans to fully acquire Oirschot-based De Meeuw. VDL has held 50 percent of the shares of De Meeuw since 2015. De Meeuw is a specialist in flexible and modular housing in areas such as healthcare, education and business as well as for housing associations. This company, with production sites in Oirschot and Willebroek (Belgium), has over 400 employees and an annual turnover of €180 million (2022). Under the VDL flag, the company will continue as VDL De Meeuw.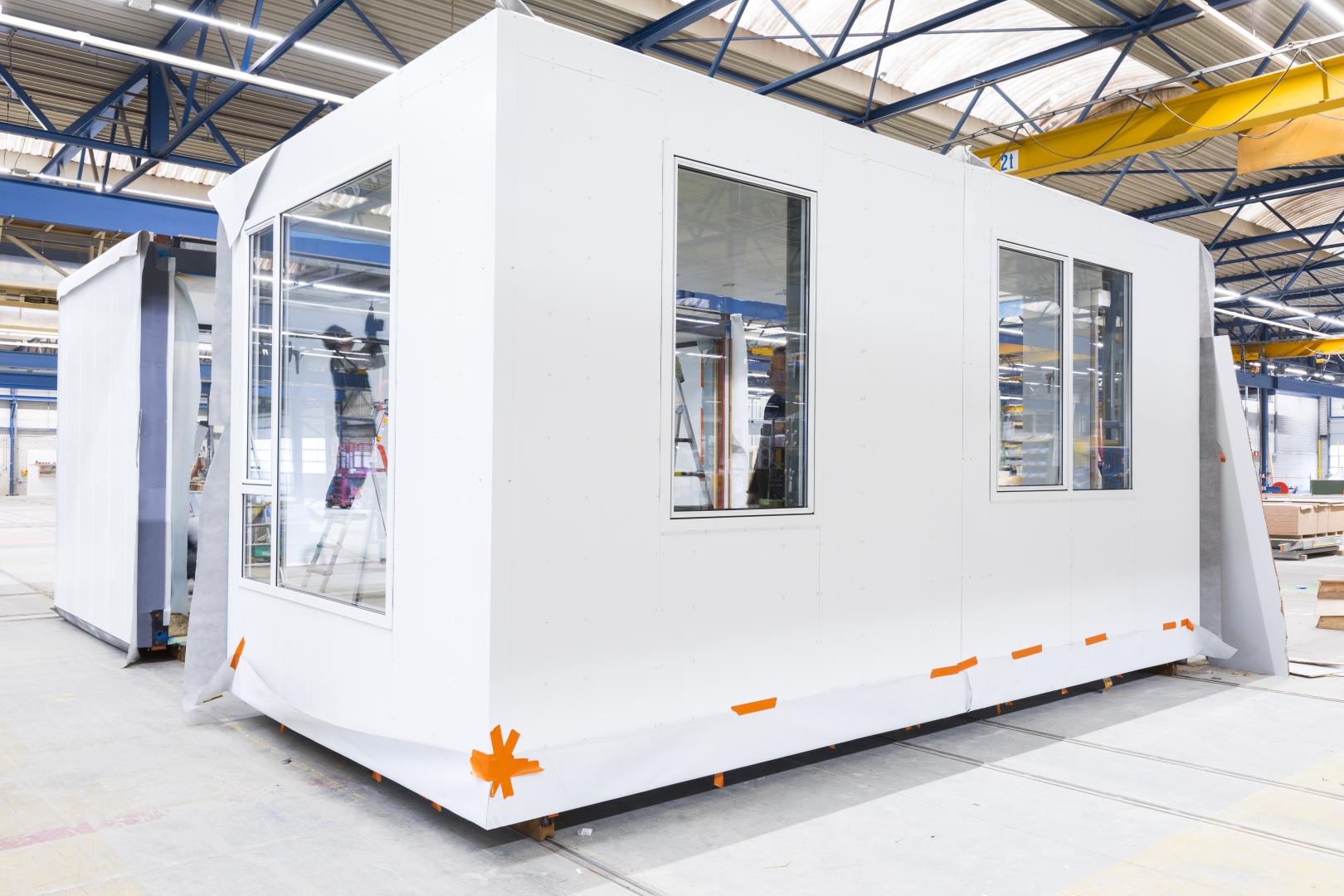 Caption: Image from De Meeuw's factory in Oirschot.
Sustainable housing solutions
De Meeuw builds sustainable temporary and permanent housing that provides a pleasant environment to live and work. With a healthy indoor climate, plenty of comfort, good lighting and pleasant acoustics. The buildings also benefit from low energy consumption. Because De Meeuw's building modules are sustainable, they emit 55 per cent less CO₂ compared to conventional constructions and achieve a 95 per cent reduction in construction waste. Modular construction makes it easier to grow and respond flexibly to changes in needs, preferences and requirements. De Meeuw's building modules can also be recycled for new projects.
Benefits of synergy
René Meeuwissen, retiring shareholder of De Meeuw: "The market for flexible, modular and sustainable housing is growing fast. De Meeuw has successfully evolved alongside this development trend in recent years and is in a position to transform itself into a leader in this market. De Meeuw's brand and market share in the growth markets for healthcare, residential housing and education have been strengthened mainly due to our sustainable proposition. De Meeuw remains committed to further improve sustainability, industrialisation of the construction process and expanding the service proposition for our customers. VDL Groep has extensive knowledge in the field of automation and industrialisation, ensuring a high level of synergy between our two family-owned companies. With VDL Groep's investment power, De Meeuw is poised to execute the strategy it has undertaken. Furthermore, this acquisition provides our customers and employees with the security of an extremely powerful internationally operating Dutch parent company and therefore a successful and reliable future. I am convinced that De Meeuw is in good hands with VDL. Moreover, I am delighted that in close consultation with VDL it has been decided that the activities in Romania will be continued by me."
Strength through cooperation
President & CEO Willem van der Leegte of VDL Groep: "The acquisition of De Meeuw will further strengthen our position in Infratech, one of the 'five worlds of VDL' and will allow us to further respond to the high demand for diverse housing solutions. We have already held 50 per cent of the shares of De Meeuw since 2015. Given the growth potential of the modular housing market and the synergy benefits associated with our current operations, we see opportunities to further contribute to the achievement of affordable and sustainable housing for everyone through this acquisition. In addition, partly in view of the nitrogen issue, sustainable construction with shorter lead times and reusable housing is becoming increasingly important. We are also keen to further commit to that social transition."
About De Meeuw
De Meeuw Groep was founded in 1929. The company, with offices in the Netherlands, Belgium, Germany and Romania, is focused on producing flexible and modular housing. De Meeuw offers clients a wide range of housing solutions in the markets of healthcare, education, government, business and residential housing. The company also offers rental solutions ranging from temporary emergency facilities to the leasing or sale of semi-permanent and permanent solutions. The Meeuw Groep will continue to operate under VDL Groep in the Netherlands and Belgium. Cros Construct, the subsidiary in Romania, will be continued by René Meeuwissen.
www.demeeuw.com
Back