Whatever your challenge is. We build it.
VDL Nedcar is the one-stop-shop partner for all automotive and mobility issues. VDL Nedcar is the preferred choice for Vehicle Contract Manufacturing (VCM) in Europe. Passionate about building vehicles and making the impossible possible. When things get complex, we're at our best. Whether it's about production, logistics, regulations or time to market. We make it happen. VDL Nedcar pursues a multi-client strategy in which we're able to build vehicles for several OEMs and Start- and Scale Ups.
VDL Nedcar is an experienced Dutch independent car manufacturing company that has been building cars for more than 50 years. VDL Nedcar is part of VDL Groep, has already a proven track record and is able to produce 400,000 cars a year. In Born, a passionate and committed team is working every day on making the impossible possible. By knowing what customers need, innovative thinking, flexibility, a hands-on mentality, problem solving capabilities, excellent quality, a favourable geographical location as a gateway to Europe and years of experience and commitment towards customers from all cultures and countries, VDL Nedcar is always in motion and it's is the right player for automotive brands to work on every challenge.

ROAD TO FIRST CHOICE VCM 2025
The automotive market is in full swing. In terms of the technology, major developments are underway in the areas of connectivity, autonomous driving, powertrain electrification or hydrogen. Moreover, the existing business models are transitioning towards car sharing and car sales are shifting towards mobility services. Covid-19 and the global chip shortage are now also having a major impact on the automotive industry.
Our market will remain challenging in the coming years. In order to safeguard our position as a VCM, we have established our long-term objective 'First Choice VCM 2025'. This is based on four pillars to secure our position: Independence, Flexibility, Process innovation and Operational Excellence.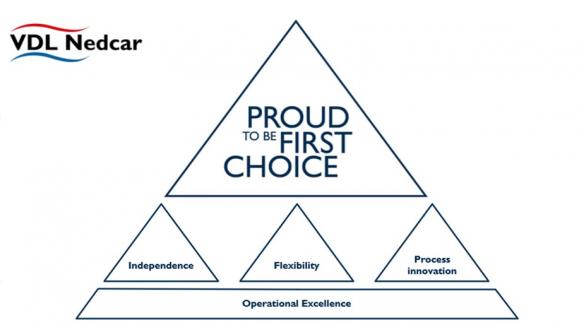 Strategic pillars
With these 4 pillars we are working to secure our position. With this we secure our mission statement. These strategic pillars have been established for the medium term. These are part of the VDL Nedcar brand.
Independence: in order to guarantee the continuity of VDL Nedcar from your own strength, an independent position is an absolute condition. This independence must be given shape by focusing on the following elements:
With more than 1 customer, continuity is not dependent on the extension of a single contract and a strong position can be taken in the negotiations (multi-client strategy);
The volume to be produced must be able to afford replacement investments, so that the equipment is always up to date and does not become an obstacle to continuation and the provision of a competitive quote.
A strong financial position ensures that the necessary investments can be financed; buffers (solvency> 35%) are necessary to absorb ever-present bad years. Also in line with the market return on equity.
Group diversification ensures less vulnerability; unite synergy and competence to strengthen VCM's position with a broader automotive range.

Flexibility: as a Vehicle Contract Manufacturer, we are the flexible shell of the OEM and it is precisely this flexibility that gives us the right to exist as a VCM. By deploying a VCM, the OEM will relieve its own factories. Flexibility mainly concerns equipment and process, the speed at which changes are made and projects are implemented, and a flexible core as the basis for the organization.
Process innovation: where the OEM mainly focuses on product innovation, VDL Nedcar can distinguish itself by focusing on innovation of the process. Process innovation with the aim of making the process cheaper, more flexible, and faster to adapt. Big data, artificial intelligence and industry 4.0 are also more important developments in which VDL Nedcar must join in order to make a difference.
Operational excellence: terms such as PQCD (Product, Quality, Cost, Delivery), lean(-ovation) and six sigma are no stranger to our industry. For some a must, for others a basic condition, a license to operate. Operational Excellence is the conviction that we want to accelerate in the service we provide to our customers. This means that everything within the organization has to be done right first time, is on time and delivered at an excellent price. The stands under the 3 pillars as a broad base, a fourth strategic pillar.
MISSION & VISION
Vision
Based on their drive, their passion and their pleasure we enable our employees to produce high-quality cars on time. Through our flexibility we make the difference.
We constantly strive for a high level of customer satisfaction, both for our customer and eventually the car driver.
Based on our strength through cooperation we help secure the continuity of car manufacturing in the Netherlands.
With this mission statement we want to express our ambition to become 'first choice' for all our stakeholders (employees, customers, shareholders and society) and that we are proud of that with all colleagues.
Our vision describes our objective to create continuity for the next 50 years of VDL Nedcar. This is supported by the strength of cooperation from VDL Groep. We are convinced that this continuity is achieved by striving for customer satisfaction, both that of the Original Equipment Manufacturer (OEM) and that of the consumer. For both, quality is not a choice but a prerequisite. Flexibility and delivery reliability are inextricably linked to our position as a Vehicle Contract Manufacturer (VCM). Employees make the difference, so we can only secure our position if all colleagues come to work at VDL Nedcar with their drive and with passion and pleasure.
Mission