Mission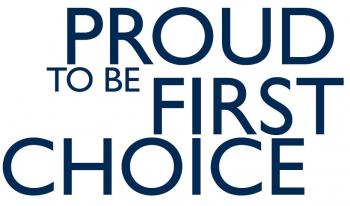 Vision

Based on their drive, their passion and their pleasure we enable our employees to produce high-quality cars on time. Through our flexibility we make the difference.
We constantly strive for a high level of customer satisfaction, both for our customer and eventually the car driver.
Based on our strength through cooperation we help secure the continuity of car manufacturing in the Netherlands.
With this mission statement we want to express our ambition to become 'first choice' for all our stakeholders (employees, customers, shareholders and society) and that we are proud of that with all colleagues.

Our vision describes our objective to create continuity for the next 50 years of VDL Nedcar. This is supported by the strength of cooperation from VDL Groep. We are convinced that this continuity is achieved by striving for customer satisfaction, both that of the Original Equipment Manufacturer (OEM) and that of the consumer. For both, quality is not a choice but a prerequisite. Flexibility and delivery reliability are inextricably linked to our position as a Vehicle Contract Manufacturer (VCM). Employees make the difference, so we can only secure our position if all colleagues come to work at VDL Nedcar with their drive and with passion and pleasure.
The automotive market is in full swing. In terms of the technology, major developments are underway in the areas of connectivity, autonomous driving and powertrain electrification. Moreover, the existing business models are transitioning towards car sharing and car sales are shifting towards mobility services.
The uncertainties arising from these developments are further compounded by trade wars, Brexit and other political uncertainties. Due to the cooling economy, car sales are currently growing more slowly than expected.

This means that our market will remain challenging in the coming years. In order to safeguard our position as a VCM, we have established our long-term objective 'First Choice VCM 2025'. This is based on three pillars to secure our position: independence, flexibility and process innovation.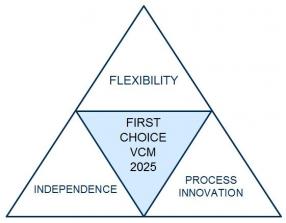 Independence
Both the aforementioned turbulence in the automotive market and the history of VDL Nedcar show that certainty is elusive in the automotive sector. In order to ensure the continuity of VDL Nedcar based on our own strengths, an independent position is absolutely essential. By focusing on the following elements, we will firmly establish this independence.
attracting and retaining multiple clients on the basis of delivery reliability, quality and added value;
smoothing production volume fluctuations, regardless of market developments;
cost-efficient (Lean), innovative production;
safeguarding a strong, and thus healthy, financial position;
diversification, and thus broadening, of our activities in cooperation with VDL Groep.
Flexibility
As a VCM, we are the OEM's flexible shell, and offering this flexibility is what gives us our raison d'être. Therefore, equipment and processes must be suitable for multiple technologies and types of projects. Ultimately, our employees make the real difference. This is why we are aiming for a strong yet flexible core. It will enable us to be responsive, in terms of making changes and implementing new projects quickly. As a flexibility partner, supported by our pool of suppliers and VDL Groep connections, we are able to provide knowledge and experience even during peak times.
Process innovation
As a VCM we are not only in competition with other VCMs but, above all, with the OEMs' own factories. In order to ensure that we continue to be able to distinguish ourselves, we must focus on process innovation – while the OEM has its hands full with product innovation – with the aim of being able to produce as flexibly as possible and at the best possible cost price. On the one hand, this should enable us to react more quickly to the market. On the other hand, big data, artificial intelligence and Industry 4.0 will enable VDL Nedcar to make a difference in this area.
Our employees
Our employees make the difference. VDL Nedcar is a family business that revolves around the people. After all, our employees are the heart of the company. VDL Nedcar considers it important to offer employees a workplace where they can enjoy working in a safe and healthy environment and where they can develop themselves.
Nurturing talent and encouraging development
Our employees are our strength. We give them the opportunity to develop themselves, and that, in turn, benefits the company. VDL Nedcar employs a wide range of people, all working together harmoniously – young and old, men and women, with almost 60 different nationalities, and various backgrounds and cultures.
Health and vitality
Playing sports is part of that. Our employees participate in various sporting events supported by VDL Nedcar. We believe our society benefits from an athletic, vital community. Sports also strengthen personal bonds and impart a sense of belonging. This fits perfectly with our motto: Proud to be First Choice.