Logistics
Our logistic process satisfies the high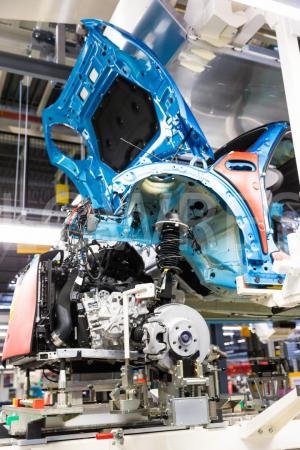 demands necessary for delivering high-quality cars on time, first time right. This means we abide by our promises and commitments.
To help us in this we have developed various logistics processes, including our Pearl Chain concept. The interplay of these processes offers us the flexibility we need to efficiently produce to order, without problems or difficulties. These systems, developed in-house at Nedcar also mean that unexpected events or peaks in production can be handled smoothly. Furthermore, they make it possible for us to reduce inventory costs by shortening the period that parts are held in stock from approximately one week to less than a couple of days.
To ensure consistently high efficiency throughout the build process, VDL Nedcar has developed a logistics planning system. In this Pearl Chain concept, all the parts needed to build the car are planned and followed up from the moment they are ordered until the time they are delivered. All requirements are inventorised and incoming orders are registered, on a daily basis. As a consequence, each individual car order becomes a 'pearl in the chain'. This process also makes use of VDL Nedcar's 'warehouse on wheels'.
Electric pallet trucks (EPTs) and reach trucks collect the empty bins and automatically replace them with full ones. Thanks to this system, the parts arrive exactly on time at the location where they are needed and the production personnel no longer have to keep an eye on stock levels. That saves time, space and expensive inventories.