Strength through cooperation needed in mobility transition
15 September 2021
MUNICH - "Cars are coming home", Prime Minister Markus Söder of the German state of Bavaria exults triumphantly during the opening ceremony of IAA Mobility, the first edition of the redesign of the world's largest mobility fair, which is making its debut in Munich. Sunday was the last trading day in the Bavarian capital. The theme of the exhibition: What will move us next?
Miel Timmers, head of communications VDL Groep, wrote a report about the transition in mobility.
The trade fair has no fewer than 700 exhibitors, including VDL Nedcar. On our stand of more than 200 square metres, we will present the core competencies of our car factory in an audiovisual way, supplemented by the broad mobility proposition of VDL Groep. With attention to important milestones in the history of passenger car building in Born since 1967 and framed by photos of employees.
Transition
Lovers of mobility in the broadest sense can indulge themselves in the exhibition halls of the Munich Messe. Whereas at the last major pre-corona car show, two years ago in Geneva, mainly complete vehicles were shown, the world of mobility is undergoing a transition. With electric driving as a matter of course. Sustainability is the most popular word in Munich. Car makes want to show their greenest side. Trying to outdo each other with sustainability goals. The vehicles that are shown during presentations are mainly compact, and of course: connected. Motorbikes and bicycles are part of a new mobility that mainly focuses on the urban environment (smart cities).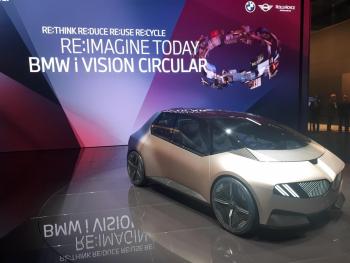 During the slick press conference, our client BMW Group shows only electric and compact vehicles. The new BMW i Vision Circular, built with recycled materials - a prototype that is not (yet) in production - is central to the show, introduced by an avatar and presented by CEO Oliver Zipse.
Innovation
(Only) one hall with many vehicles on the Messe. Furthermore, it is mainly innovation that is the order of the day at IAA Mobility. Steering without a housing, autonomous driving, a device in the centre console with which the vehicle can be operated and ready-made platforms on which car makes can mount any superstructure. And digital. Everything shown in Munich is connected to the Internet so everything communicates quickly with each other. For safety, comfort and sustainability.
"The transition in mobility is not a transition of companies, but of an entire industry," says CEO Herbert Diess of Volkswagen, which sells 10 million cars annually. "It's about being able to forge the right partnerships, right across different sectors. That's how we create added value. Our industry will play an important role in the CO2 emission reductions of the global economy. Cars become batteries on wheels. To do this, our networks have to change, digitise. Those networks indicate when our vehicles need to be charged and connect cars to other systems, so the extra power generated by stationary vehicles will be used for other purposes."
'It's about being able to forge the right partnerships, right across different sectors'
Herbert Diess, Volkswagen CEO
VW's target is for the total fleet to consist of 70% electric by 2030. Can the networks facilitate this, Diess asks Francesco Starace of the Italian energy company Enel, who has come to accompany the VW CEO from a screen on the IAA stage. The Italian, who meanwhile sips water from a wine glass, replies with a definite 'yes'. "To enable the transition in mobility, all our networks must be digital by 2030."
Who will be the greenest fastest? That seems the rat race where car makes have found themselves. Porsche CEO Oliver Blume says they will invest a billion euros in sustainability. By 2030, he promises, all 'his' new cars will be electric, and the entire value chain of the sporty make will be carbon neutral.
'Electrification is the main route to zero emissions, but is only the beginning of the revolution in mobility'
Mate Rimac, Rimac Automobil
Blume takes to the stage in Munich with 30-year-old Mate Rimac. More than 10 years ago, he converted his BMW 3 into an electric variant in his shed and won street races with it. His mission: to make the electric cars of yesteryear ('boring washing machines on wheels') 'fast and exciting'. Rimac Automobil now has 1,000 employees and the young entrepreneur is building a new campus in Croatia 'in the middle of nature'. "Electrification is the main route to zero emissions, but is only the beginning of the revolution in mobility", he says.
Progress
Porsche and Rimac work together. Porsche boss Blume: "To make progress, you need partners who stimulate and challenge each other. Having the right partners is essential to move our industry forward."
The transition also transforms the playing field for our employees, emphasises Stephan Hartung, mobility boss at Bosch. "We will work differently, close factories and open others. The entire industry must tackle this together. All participants in our industry must change, side-by-side. It's not about companies as such, but about an entire industry."
'All participants in our industry must change, side-by-side. It's not about companies as such, but about an entire industry'
Stephan Hartung, Bosch
Innovations that will shape the transition in mobility will sprout in Europe, according to the experts at the IAA. "After all, where were the most advanced vehicles in history produced?", says Lufthansa CEO Carsten Spohr rhetorically.
Decisions to shape the transition of mobility have already been taken, says CEO Ola Källenius of Daimler AG, the parent company of Mercedes-Benz. "Now it's time to roll up your sleeves and get started, the time for execution has come." Mercedes-Benz has set itself the target of being carbon neutral by 2039. It is striking that Mercedes-Benz boldly and prominently positions a diesel engine on its IAA stand. A statement?
What will move us next? was the theme of the first IAA Mobility in Munich. Strolling past the many stands of the 700 exhibitors in the Messe in the southern German city, we try to answer the theme question.
Future
In any case, our vehicles of the future will not emit any dirty substances. The rudiments. They are optimally connected to the Internet, for example, our vehicle will ask for permission to switch off the lights at home because no one is home. So clean and digital vehicles. And safe, of course, and being autonomous and transported should be a pleasant experience. The experts in Munich agree on that too.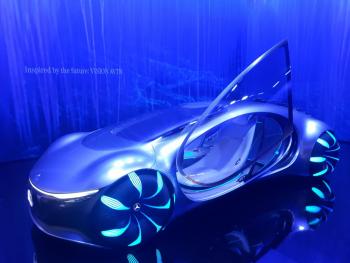 With the mobility strategy that was started years ago (design, electrification, connectivity, autonomous driving and mobility as a service), VDL Groep is well prepared to respond to developments.
How did we experience the IAA at VDL? Stand manager Sjef Stollman: "We have made more than 100 new contacts, and have strengthened many relationships. With the strength of VDL Groep, VDL Nedcar has all the ingredients to remain a more important player in the new world of mobility."
Miel Timmers, head of communications at VDL Groep.
Back